Hut is open for business. Orders may experience some delay due to Coconut Express supply chain issues from the mainland.
About Us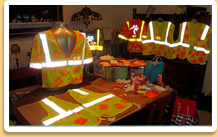 Owner Mark "Huff" Huffaker has always been a great innovator. He was born a poor Filipino child who had to find work as a young boy in order to feed his family. His long days in the earmuff factory were grueling, but he found solace watching his favorite television show, Magnum P.I. One night Huff had a dream about Hawaiian shirts and proper safety wear. He jotted down the idea on an old issue of National Geographic and when he came of age, decided to start his own Hawaiian Safety Shirt business.
Mission Statement from The Owner
Some suggest that I start mass-producing with machine printing and farm it out to another country, or some such.
Not if I can help it.
The product will not only lose it's hand-made charm and "painterly quality" but will also take away the fun.
If I expand, if possible, it will be utilizing and hiring artisans and they can also reap some of the rewards I have gained from hard work and good planning.
This means that sometimes the orders take a little longer since I have to "piggyback" and clump orders, together, to keep costs down.
I am keeping this venture small enough to manage without becoming the nerve-wracked typical citizen, and you benefit, as do I.
So, doing my best, I will keep the "factory" (such as it is) churning out a good product, at a good price.
Yours in dreams of island life,
Huff
"Great Tiki Third Eye tells you to go to the Hut Store or make sacrifice some nice underwear!!"In his spare time, he is an avid sailor and likes to cruise around the harbor in his sailboat. He looks west to Hawaii from his California home port of Los Angeles for inspiration for his designs and philosophy. (Steel-toed flip flops still in development.) Huff plans on sailing his small yacht to the islands, sometime soon, in further research of the culture that can take the daily grind and turn it into a luau. Safety can be a beach, Mahalo.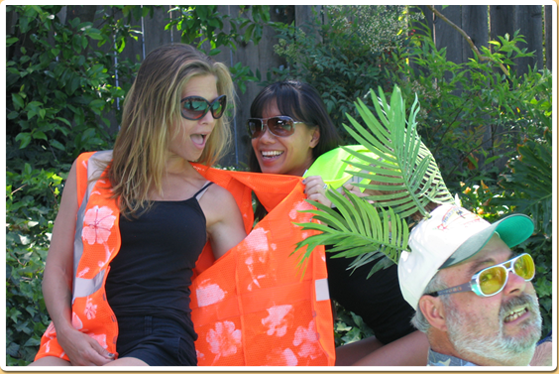 Get Me to a Club (or a nunnery)
These are selling
like hotcakes!
Random needy
customers will
receive a
3 x 5 logo sticker
for their hard hat!