These are selling
like hotcakes!
Random needy
customers will
receive a
3 x 5 logo sticker
for their hard hat!
Testimonials
"That palm tree saved my life!"
- wearer that was not run over by a bulldozer
"We love these"
- a to-remain-unnamed group of chemical workers in a state that does not restrict many hazards
I've been a safety professional for 30 years and a Parrothead for longer. I wear Hawaiian shirts to work as often as I can get away with it. Sometimes I have to wear them under my ANSI vest.
And now comes the Hawaiian Safety Shirt! What a wonderful idea!
Keep your phins up and your margaritas down.
-Dan Souders, CSP
Senior Project Manager
FAQ's

"Is this a great idea?" - Yes, this is a great idea.

"Will it make me a better person?" - Yes, undoubtedly.

Who wears these, men or women? - Men like it, women like it, Men-women like it.

"Will it make me safe?" - As safe as one can be on this tumultuous planet. These are hi visiblity, not bullet resisitant or have the power to keep away in-laws.

"More fun facts" - The premium fabric paint is imported from England for your wearing pleasure.
The reflective tape for the palm tree is the same as the type the Coast Guard uses- SOLAS, Save Our Lives at Sea.
You will have more fun while wearing these vests than you had, recently, otherwise.
WE HAVE LOST OUR LITTLE MINDS AND ARE OFFERING THE VEST TO YOU, OUR 'CLIENT GODS' FOR ONLY $25!
Who says work and play don't mix? Not someone who's wearing one of our hip, new, and totally awesome Hawaiian Safety Shirts, of course! Why look like everyone else on the construction site with those ugly orange vests that the man forces you to wear? Add a little Jimmy Buffet style to your work clothing today, and watch as the compliments come rolling your way.
Plus, why keep looking at that darn work clock that runs so slowly? In your Hawaiian Safety Shirt, it'll be 5 o'clock every minute of the day. Then once you punch out, keep it on as you head over to the Pina Colada bar to keep the fun and adventure going all night. So order your Hawaiian Safety Shirt now, and break free from the ordinary!
To learn more about this amazing product, please take a look at the rest of our website. If you don't want one after looking everything over, maybe you're not the kind of dude who loves to have fun. I heard there's a sale on some boring work outfits down the road Good luck with that!
For $25 bucks you can't beat this cool active addition to your attire!
Personal Protection Equipment (PPE) with personality! As mentioned in the new product section by ASSE (not as in I am feeling a little…it is The American Society of Safety Engineers)
FUN FACT: The Hawaiian Safety Shirt was given out as a safety award to 4,000 vest-wearing workers at one of the busiest job sites in the country Los Angeles Airport.
The design and trademark logo of Hawaiian Safety Shirt is protected by US copyright and patent
Another crop drying in the SoCal sun, getting ready to be harvested.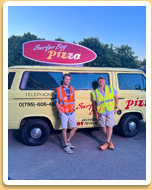 "London Calling?- Fun fact- New Jersey used to be connected to England!"
This May Be the Most Fun(ctional) Thing You Ever Purchase


GREAT WAY TO QUICKLY BUY A SINGLE VEST BUT IF YOU NEED MULTIPLE COLORS SIZES, ETC...GO TO THE BOTTOM OF HUT STORE, TO CHECKOUT AREA
BUT SERIOUSLY FOLKS
SAFER THAN THE AVERAGE BEAR

Numerous independent field tests have been done, at multiple and varied focal distances, confirming the Hawaiian Safety Shirt outperforming a standard unit and, as it was more noticeable, and memorable, in incidental and varied viewing, and had general contrast qualities, and added interest. This makes for quick sighting, with the possibility of reducing potential hazards (more safer), and in the process, offers prospective employer reduction in overall job cost with fewer accidents incurred. Plus, most all that have tried this safety gear think, almost unanimously, that this is a great idea.
It fills all the major food groups for the soul.
HOW IT WORKS
In part due to the "anti-camouflage" effect, whereas the natural style print stands out well against man-made structures and forms, on a typical construction site. The additional reflective material and patterns enhance the chances of being seen, inclusive of overall visibility. A tiger's stripes are not seen in the wild, yet becomes prominently visible when in a setting that is not in nature. Larger game hunters were polled have not taken time off from their mammalian conquests to reply. As a mammal, you may be susceptible if they start hunting on your site, though, as your "identifiability mixture model" may be skewed and a wall mounting could be in your future. This unique design is filed with the United States Patent Office, patent pending.
THIS IS NO TOY
All federal, state and local OSHA requirements and Dept. of Labor criteria are met and/or exceeded in the design. So much so, that it may very well increase ones chances of safety, when worn. Appliqué to the base garment is not unlike the printing or patchwork applied, such as customizing with promotional names of companies, titles and other additions made by contractor's. This, really, is no different, in practice. The design meets OSHA's "Complexity of Background" standards, as interpreted and is intended to amend visage.
Per Democracy PLC:
You're additionally going to be able to modify the vests, either in colors, design style, as well as selecting to add in a reflective strip down the middle, to be able to offer added visibility, as well as to help keep workers safe and sound, and to supply the appearance you want your staff members to have on any job site they could be performing on.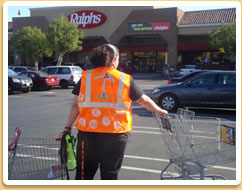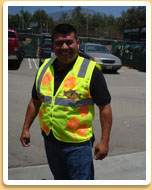 CART WRANGLER AT WORK REBEL AT WORK STUDY IN BROWN NEEDY, DEFINED
OUR HEROES
Seriously, for most all construction sites(of which, I have been on many), these units will be very functional, as well as stylish, yet for roadside highway workers, firefighters, and other emergency responders, etc…they may want to accede to a style that is similar to all those worn by their cohorts, for "identifiability", unless you all want to dress Hawaiian, which would be fine by me.


"These diligent, but fun, Safety Officers, get their message across while making 'Casual Friday' news, and co-workers clamour for their Hawaiian style togs! Happily proving, once again, safety CAN be a beach!"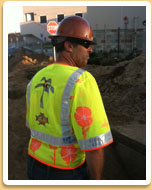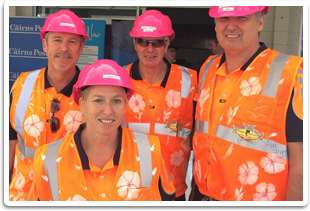 Aussie Fest Vests
Oy mate! Now, that's no shrimp next to the Barbie! This group of Australians know how to be safe!
(Vegemite, notwithstanding)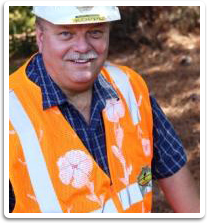 Hawaiian Safety Shirt People Profile
(aka who wears these things?)
Name: Bart Gragg (is his real name, too)
Work: Blue Collar University (owns, teaches, hides by)
Favorite Color: soiled white collars
Favorite Song: he won't say
Hobbies: safety dancing, project management
Web Site: www.bluecollaru.com (no kidding)
(ah...in which case, Safe U may be in the works!)