Hut is open for business.
Ok, we'll make this short and sweet, since we know you're busy. Heck, we're busy. Huff's boat needs a good waxing. Below you'll find the coolest safety vest in the world that's perfect for not only the job site, but also the next Jimmy Buffett concert.
Here go some strong selling points we came up with:
ANSI Class II ultra-lightweight fluorescent polyester mesh safety vest
Each shirt is handcrafted, and no two are alike
They're highly reflective so you'll be seen from far away
They are made with heavy-duty construction
We use "genuine" fake wooden buttons
Huff might very well invite you sailing
They're available in two fashionable colors: Orange You Safe and Mello Yello
You'll be helping Huff out tremendously to save for his next vacation
You'll boost his ego enough to come up with even more great ideas (yeah, they laughed at Einstein at first)
Available in sizes Small through 5X
Other reasons to get our shirts:
Makes for a unique gift around the holidays
You've heard of Casual Friday? Start a new trend with Hawaiian Safety Shirt Friday.
4 out of 5 Safety Foremen recommend Hawaiian Safety Shirts for their crew (Source: N.A.D.S. The National Association for the Development of Shirts)
The Hawaiian Safety Vests

The Vest- Is an ANSI Class 2 (popular with ambassadors and visiting dignitaries) has no sleeves, and is "island breeze friendly" polyester mesh, with a zipper and a breast pocket and an inner pocket to stash those messages that you found in a bottle. Your color choice, without paying tribute to the materials acquisition gods, is all of 2- yellow (aka lime) with orange flowers or orange with white flowers. Zat's it for now until I can find some young women folk to join the team, kick those elves out and make things a little cheerier around here.
Tika & Tonic- The Safety Sisters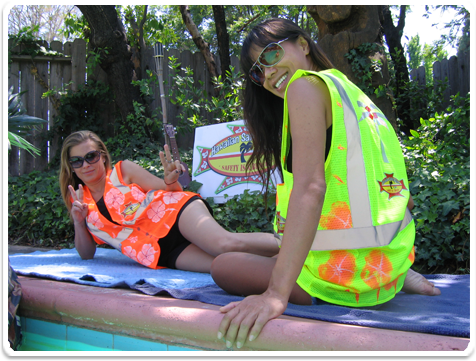 Pick your pleasure- Mello Yello or Orange You Safe...for only $25 each! (plus minimal shipping costs, Safety Sisters not included, but write if you want to become a fan, or something platonic, no fluid exchange available, at this time)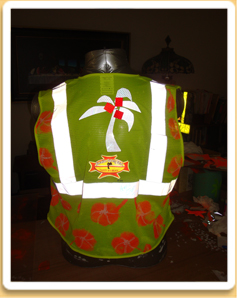 Night Vision Preview*
(this is what you will look like after sunset)
(Credit cards, PayPal, and bank drafts on coconuts accepted - SORRY BUT NO INTERNATIONAL SHIPPING THRU PAYPAL- IF YOU ARE OUT OF THE US AND ITS TERRITORIES EMAIL ME SO I CAN PRICE THE SHIPPING)
info@hawaiiansafetyshirt.com
Class 3 Safety Shirts/ Shirts with sleeves or anything other than the regular Class 2 vests not available at this time
IF YOU ARE FEELING WILD AND/OR GENEROUS, NEEDING MULTIPLE COLORS/SIZES JUST KEEP ON ADDING TO THE CART!
If you don't see what you need try clicking here and see what happens. Wishes can come true.
These are selling
like hotcakes!
Random needy
customers will
receive a
3 x 5 logo sticker
for their hard hat!
PEOPLE LIKE YOU, FROM ALL OVER, ARE STARTING TO MAKE THESE COLLECTIBLES!
Size Chart
approximation via inches chest diameter- most sizes are "regular" in length, yet increase, usually, in length, as they increase in overall size (we'll get that gut covered, yet). If you need to convert to metric I am hoping math is one of your strong suits. We just use "muumuu" philosophy and get something big enough to cover most all. Also note that every piece is handmade so there are no real good reasons for returns as it may upset some demigods. That being said, we can discuss forms of appeasement as the situations avail themselves (you got bigger than you thought, etc...).


Note that the Small size of the regular vest is a couple of inches longer, proportionately, for some reason that eludes me, from my manufacturer - so, if you are a "thin, lanky" type it is perfect, but if you are a short person I recommend ordering a Medium size and dealing with a little more width

small (possible wahine territory, for gods and goddesses alike) up to 38

medium (Kahuna) up to 40

large (big man in canoe) up to 46

XL (getting into Kamehameha turf, here) up to 52

XXL (Is that you, Papa Oom Ma-Mow-Mow?) up to 56

XXXL (you are a local god) up to 60

XXXXL (natives notice seismic activity when dancing) up to 64

XXXXXL (affect local weather patterns; occasionally mistaken for volcano) something past 64
Note: These sizes consider being worn over a work or T shirt or very light jacket, and production variations.
Sales tax added for California customers (sorry, gubmint found me).
International shipping may be more depending on location and frequency of boats from mainland.

Click here for CARE & MAINTENANCE INSTRUCTIONS
Want more! These nifty hardhat/lunchbox reflective logo stickers light up at night! Add a note in "buyer's instructions", when checking out and I will add to order, $3 each, or email me with request.